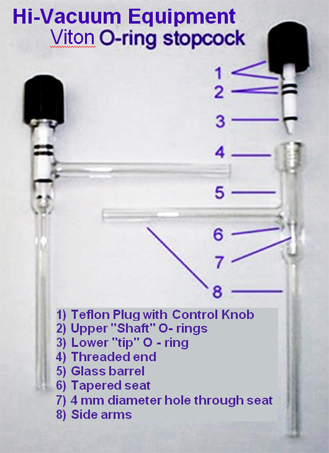 Specialists in the Production of :
High vacuum stop cock is an inert valve for vacuum applications with variable opening from 0-3 mm to 0-10 mm. An ultimate vacuum of better 10-6 torr can be realized with standard silicone 'O' rings. By baking out the system and 'O' rings, an ultra high vacuum down to 10-9 torr can be attained when Viton 'O' rings are used. Two 'O' rings form the sliding seal and another 'O' ring makes a positive closure against a precision formed glass seat. The shaft is non-rotating and never needs lubrication.
High vacuum stop cocks feature a solid PTFE stem and glass filled PTFE threads and handle for dimensional stability and reduced expansion when heated. The barrel is borosilicate glass.

Vacuum systems:
Schlenk lines and vacuum lines provide a convenient means of manipulating air and water- sensitive materials without the use of an inert atmosphere glove box.