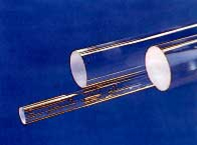 FUSED QUARTZ RODS
| | |
| --- | --- |
| 1 mm | 7mm |
| 2mm | 8mm |
| 3mm | 9mm |
| 4mm | 10mm |
| 5mm | 12mm |
| 6mm | 25mm |
Other size available upon request .Standard Length 1000 mm. longer lengths upon request.
FUSED QUARTZ DISCS & PLATES
SRINIVASA PRODUCTS offers a variety of grinding and polishing services for wide range of sizes, shapes and grades of quartz and borosilicate glasses. Our machine capabilities include:
1. Ground and polished discs upto 150 mm with varying thickness.
2. Ground and polished plates upto 250 mm x 250 mm with varying thickness.