Quartz Wool & Ground Joints
High purity quartz wool is used for filtration and insulation in environments where the properties of high purity quartz are needed.
These fibres, wools, and fillers have a high temperature resistance, are immune to corrosion and have high electrical resistivity, making them ideal for fillers and insulators in electronics, insulators in space craft and high tech airplanes, high temperature filtration, insulators for very hot or very corrosive environments and as an asbestos replacement.
It is available in 10gm and 100gm packing.
Quartz Ground Joints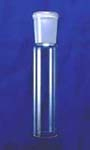 The quartz ground joints are manufactured from quartz tubing and careful attention is paid to the accuracy of form, uniformity of surface finish, profile and taper to reduce the possibility of leakage and joint 'seizure'. The outer joints have extra glass tooled onto rims to add to chip resistance.
Sockets:
Interchangeable joint Sizes
10/19, 12/21, 14/23, 19/26, 24/29, 29/32, 34/35, 40/38, 45/40, 50/42, 55/40, 60/65, 70/75
Cones:
Interchangeable joint Sizes
10/19, 12/21, 14/23, 19/26, 24/29, 29/32, 34/35, 40/38, 45/40, 50/42, 55/40, 60/65, 70/75